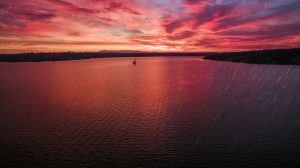 While Kirkland is proud of its extensive and diverse set of waterfront parks, it offers a rich variety of neighborhood playgrounds, ball fields, walking trails, natural and landscaped open spaces and an outdoor public swimming pool.
Kirkland's waterfront location offers unlimited recreational opportunities and spectacular views. Cruise ships depart regularly from downtown to explore Lake Washington's shores. Such offerings make Kirkland a perfect one-day vacation or a place to put down roots.
On sunny summer afternoons, Lake Washington Boulevard is filled with walkers, joggers, bicyclists, roller bladers, and a few motorists traversing the short mile from Marina Park to Carillon Point. Some are out for exercise, others for the lakeside sunsets and others still for kayak and canoe tours or volleyball on the sand courts.
Kirkland's strong local economy is characterized by a healthy mix of small business, corporate headquarters, light industrial and manufacturing, and a growing base of high-tech and home-based businesses. Located in the midst of the booming Eastside economic market, many of Kirkland's businesses indicated expansion plans in the near future. A competitive business climate, with no local Business and Occupation (B&O) tax, and high quality of life make Kirkland a desirable location for both local and world-class enterprises.
Sorry we are experiencing system issues. Please try again.