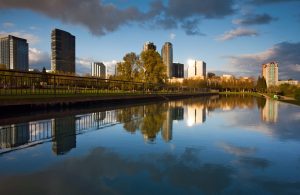 A Unique History and Geography
Founded in 1869 by William Meydenbauer and incorporated as a city in 1953, Bellevue spans 31 square miles between Lake Sammamish and Lake Washington. To the East are the snow-capped mountains of the Cascades. To the South, Mount Rainier dominates the horizon, and to the North, Mount Baker marks the proximity of the Canadian border. To the West, two floating highway bridges link Bellevue to Seattle.
Bellevue's neighbors on the Eastside of Lake Washington are Yarrow Point, Clyde Hill, Hunts Point, Beaux Arts, Medina, Kirkland, Bothell, Newcastle, Redmond, Issaquah, Woodinville and Sammamish.
Climate
Bellevue's climate is uncommonly temperate. "Comfortable" is an often-used description, along with "mild, gentle and calm." Summer daytime temperatures average just under 70 degrees, while winter lows tend to be in the 40's. Average precipitation totals only around 38 inches per year.
A Dynamic Population
Bellevue's population is right around 107,000 and is projected to continue its upward trend. Bellevue is the largest city on the Eastside, the second largest in King County, and the fourth largest city in Washington state.
Employment
It is estimated that there are 121,000 jobs in Bellevue. This comprises about 11 percent of the county's total. Bellevue's employment is expected to grow between 25 and 30 percent over the next 20 years, resulting in an increase of 30,000 to 35,000 new jobs.
Cost of Living
Bellevue has experienced an overall growth in incomes, placing it well above the county average. Home ownership is also high. In spite of a higher regional cost index than the national average, Bellevue remains an affordable place to live, with incomes continuing to outpace inflation. Most recent data suggest the average household income for Bellevue is about 30 percent higher than the median household income for the region, and significantly higher than the county average.
Sorry we are experiencing system issues. Please try again.